Alonzo Strong
Alonzo was born in Durham, Connecticut on November 5, 1805. His parents were William Augustus Strong and Abigail Crane. In 1806, when he was one year old, the family moved to Atwater, Ohio where they were early settlers
His mother returned to Durham, CT about 1809 leaving Alonzo and his brother Luzerne in Atwater. According a letter, written by his grandson, Luzerne was still nursing and was cared for by "strangers" when she left. Again, his according to William's grandson, he made a trip back to Connecticut to persuade Abigail to return to Atwater, but she refused. He remarried Maria Gully in 1811 without the benefit of a divorce as another expensive trip to Connecticut would be required to obtain one. An add in the Middletown, CT. paper declared that he had no further responsibility for any purchases made by Abigail.
William enlisted in the army for the duration of the war in May, 1814, leaving Luzerne and Alonzo with his new bride, Maria. Maria had given birth to Ira a month or so before William left for the war.
After William's death in November 1814, Alonzo and Luzerne were sent back to Connecticut for schooling. We have no information about who cared for these young boys, as Abigail had died the previous September. The boys were then returned to Atwater as orphans. Presumably, their step-mother could not or would not care for them. William was bound out to Joseph Hartzell, a prominent farmer in the south east corner of Deerfield which also is considered North Benton.
He was first sent to Cleveland where he learned the trade of wool dressing. Later, he was given training as a carpenter at Salem. As a young man, he pursued his trade of carpentry in New York state and Cleveland. (The Strong families of Durham, CT migrated to Freehold, later known as Durham, NY, on the Hudson River in the Catskills. It is likely that he worked in this area of New York).
Alonzo married Christine Lazarus in 1828 and bought the farm adjacent to the Lazarus mill property. He was the original owner of that land. The Lazarus family operated a grist mill on Mill Creek on property now occupied by Berlin Lake and the marina at the end of Hartzell road.
Alonzo's Children with Christina were: (1) an infant that died young, (2) Fredrick, (3) Julia, (4) Lavina, (5) William A. and (6) Levi.
Christina died and he then remarried Elizabeth Whinnery on 18 August 1846. Children with Elizabeth were: (1) Serena M., (2) Edward and (3) Edwin (twins), (4) Louvisa Jane, (5) Ashley Ely, (6) Ophelia Adelaide, (7) Leora Elizabeth, (8) Alonzo Carroll, and (9) Wendell Phillips.
When Alonzo's daughter Lavina married his wife's brother Elijah Whinnery, the family tree became interesting and confusing.
Alonzo applied for and received bounty land for William Augustus's death during service in the Army during the War of 1812. In time, a grant for land near Marshall, Illinois was awarded. His daughter, Louvisa Jane married Alvin Smith and took on the task of developing 80 acres of that bounty land.
Alonzo acquired additional acreage from the Lazarus family, increasing the family farm to 250 acres. The land encompassed Mill Creek to the North and contained a great stand of wooded land with many maple trees. He raised dairy cattle and sheep. Alonzo was a respected member of the community, serving terms as Justice of the Peace. He built a modern barn during the Civil war era.
He died at the farm in March 1881 and is buried in the Hartzell Cemetery.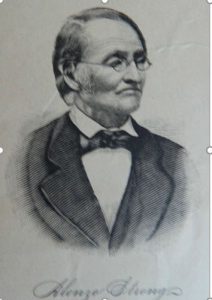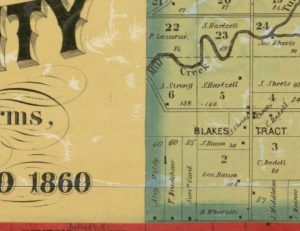 Location of the old farm
Alonzo was the first owner of the farm identified as A. Strong above

Leffingwell road did not run through to the next farm where Albert Strong lived.

The old road cut back to Mill Creek to the old Lazarus Mill and then connected to what is now Hartzell Road.

The red line demarks the 43rd parallel which is the southern boundary of the Western reserve.

Map was taken clipped from the 1860 map of Mahoning County, available at the Library of Congress.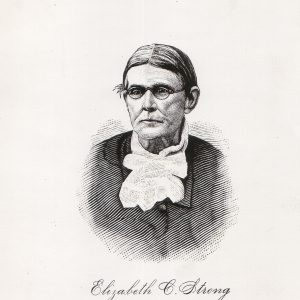 Elizabeth Str
Elizabeth C Strong – Alonzo's second wife
Louvisa married Alvin Smith and they bought 80 acres of the bounty land in Illinois. The land had to be cleared for farming and it was some distance from the nearest town, Marshall. Life was difficult for them such that Alvin took began teaching to support the family, although this meant living away from home when school was in session. After a few years, Alvin and Louvisa found property nearer to Marshall and asked to sell their part of the land with a deal to sell the entire grant of 160 acres. Alonzo's response reveals a great deal of family history. The letter was probably transposed by Agnes Smith, one of Alvin and Louvisa's daughters. The letter as transposed and OCR's and converted to a PDF can to seen by clicking on the following entry below