Some Strong Family History
Ralph's Folly
The site will be used to provide family history and legends to the next generations. Detailed genealogy is available on Ancestry in several trees, notably New William and Tierm's Family tree. Families to be included will be Strong, McConoughey, Henry, Stevenson and preceding generations.
As a start, the find the story of William Augustus Strong on this page.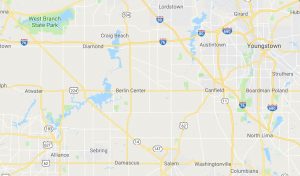 Along with the family information, it is interesting to look at the towns that influenced them and the times in which they lived. North Benton, Deerfield were the centers of activity for my family when growing up. Towns of our ancestors include Durham, CT, Blandford, MA, Lodi, Ohio and others.
William Augustus Strong – to Ohio in 1806
William Augustus Strong came to Atwater, Ohio in 1806, just after the first roads had been built from Canfield to the adjacent town, Deerfield. He brought his wife, Abigail, Alonzo, and Maria. William, their first child died soon after birth. William and Abigail acquired several pieces of property in Durham, CT., but sold them to move the a frontier town in the newly created Connecticut Land Company territory we now know at the Western Reserve. According a letter written by one of his grandsons, he built the first frame house in Atwater.
Life in Atwater
Maria died soon after the move to Atwater and was the first to be buried in the town cemetery. Her grave is in one of the corner lots. Little is know about their life in Atwater but it must be assumed that William cleared land and farmed. Live was hard and land had to be cleared wood prepared for fuel and crops planted and animals would tended. The area would have had ample deer and other animals to provide some of their food.
Not all went Well
Luzerne, a second son was born in Atwater. Soon after his birth, Abigail became disenchanted with life on the frontier. She was given some money an a horse so she could return to Durham. We have not determined how she lived in Durham or how who she lived with. According to his grandson, William made one trip back to Durham to convince her to return to Atwater, but she refused. A newspaper advertisement has been located stating that William Strong is no longer responsible for her debts or purchases. Abigail died in 1814 at the age of 33 and in buried among other Strong's in the Old Durham Cemetery.
William returned to Atwater and married Maria Gully (without the benefit of a divorce. To obtain a divorce, would have required him to return to Durham which would have been a large expense.
The skeleton in the closet
William Augustus my not have been entirely a nice guy. There is a grand jury action in Ravenna, the county seat, charging William A. Strong of Deerfield of Fornication with an unmarried woman, Loveey Jacobs in Deerfield. Luzerne was born in 1809. According to his son's letter, Abigail left while Luzerne was still nursing, so it is likely that This infidelity may have been the cause of Abigail's departure.
Military Service
William participated in two marches to Sundusky to fight the British in the opening phase of the War of 1812. The periods of service were short, about 10 days. Then, in May of 1814, he volunteered in the regular army for the duration. His war record shows that he was sick for most of the period between then and November 1814, when he died. He probably did not see any action in battle.
The Aftermath
Abigail died in Durham, CT in September 1814 and William died in November 1014 in Black Rock. Abigail was buried in the Old Durham Cemetery with yet another mystery. On her tombstone is the notation that her infant son lies at her feet. Is this William, who died before the couple left Durham for Atwater, or was there yet another baby born in Durham after the separation? Abigail's grave is in the Strong section of the cemetery amid the numerous Strong families of Durham.
Alonzo and Luzerne were taken east for a couple of years, but were then returned to Atwater. They were bound out to residents in there. Alonzo was bound out to Joseph Hartzell in North Benton.